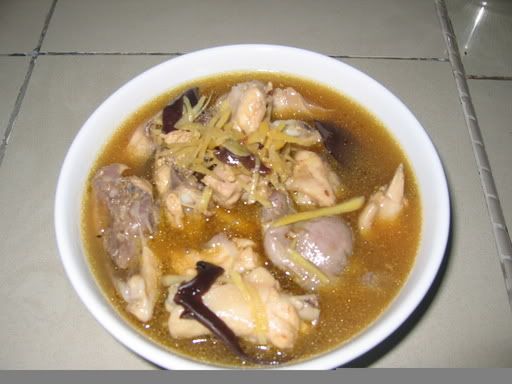 This was the food I hated most on my confinement! Same dish for 3 meal a day..OMG..for a month ler…At that moment really felt disguited when saw it..
But there was 6 months passed my confinement liao..Now i'm started to miss the taste liao..haha..
Actually 8 out of 10 guys don't like this dish. But Fatty love this dish crazily! On my confinement, he always ask my mother to cook extra for him & he just eat eat eat, never felt full..U know what he told me? He said this dish look like a tonic for him..make him strong wor..hahaa…I think he was impacted by his sister laa..Coz he has 4 sister whom held their confinement by his mother long time ago..And he eat all the over balance Rice Wine Chicken when his sis can't finished it..Automaticly he become Rice wine chicken ash bin..And just like me miss this dish few months after confinement..
Since today this holiday maa..So I decided to cook it..Taste what I'm hated at confinement but miss now..hehee ..It really delicous ler…