SQ used to the school very fast. She requests me drop her at the entrance on the third daddy and told me her teacher said parent could accompany them in school for one week only, and then all students have to come to the class by themselves. If I want to send SQ to class, I have to ask her permission now. Wahsey… So big face ah. I hope she is going to the school with this happy and proud feeling forever.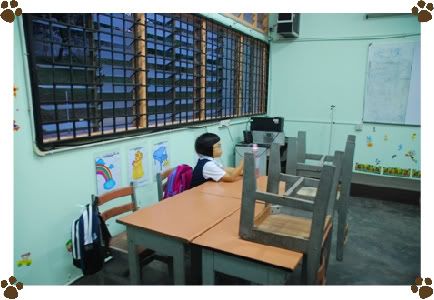 Wrote their Chinese name and all published on the board at back.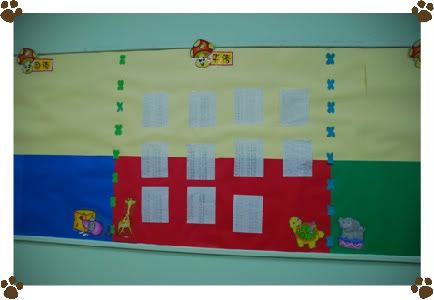 Currently, SQ still does not have to carry heavy school bag as all her books are keep in school cabinet. Not sure teacher will help them keep the text book in future or not, but I hope they will. So that SQ no need to carry a heavy bag to and back from school lor.
1S Class photo. 11 students and their class's teacher.. someone commentted Mulan looks like the picture on wall wor.  Sorry teacher, that Mulan head too real liao..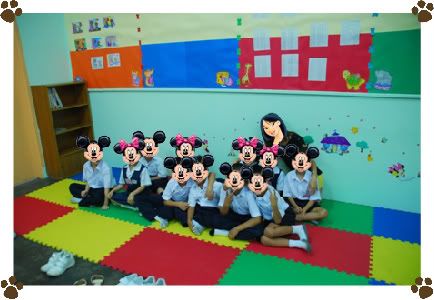 One day early morning, I saw whole school students bring out a plastic stool and queue at outside of the classes. Very cute Oh… Guess what are they doing with the plastic stool? Of course is sit on it lah (this is how SQ answer me :p) they are heading to the hall for assembly! Wah so good ah.. Got stool to sit while assembly ah… I only remember the experience of stand under big sun until pening saja…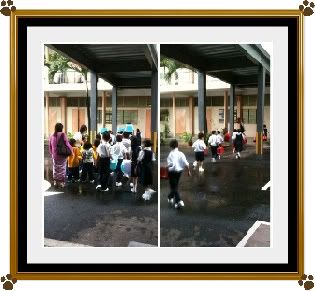 p/s : this school is having Preschool for kids aged 5 and 6 too.. go CP's blog if you want to know more.